Visiting a new church can be an intimidating process. Sometimes it can feel like crashing a family reunion with all of its traditions and rituals. We hope this page can answer any questions you might have to relieve some of that first-visit nervousness.
Worship Style and Dress
Our worship has a laid-back traditional style with many sprinklings of more contemporary elements. We sing from a hymnal with an organ and piano, sometimes we have guitars, sometimes we use our overhead projector.
While there is no "dress code" people are often curious what others wear. Our men wear anything from suits to slacks and polos, and women wear anything from dresses to pants and shirts.
Parking and Directions
We have plenty of parking right on site. See our church map below to help you get from our parking lot into the Sanctuary or to the Nursery.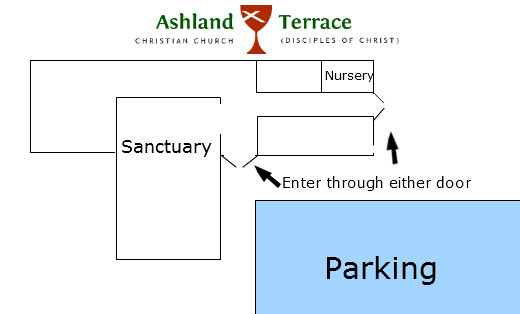 For driving directions to our church, please visit our Contact & Directions page.
Find out more about Children @ ATCC.
 Our Denomination
We get a lot of questions about our denomination, maybe because Ashland Terrace Christian Church sounds fairly generic. In truth, the Christian Church (Disciples of Christ) – usually called just "Disciples" was one of the first denominations started on American soil, and is considered one of the "mainline" churches along with the United Methodists, Presbyterian (USA), Episcopal, Lutheran and others. Our pastor will often tell visitors that if they're familiar with any of those, our service and life as a church will feel very familiar.
We strive to be a place for all Christians. Because of this, the Disciples church often serves as a bridge church – whether for marriages with two different backgrounds, or folks who have felt burnt out by other traditions.
The biggest distinguishing mark of our worship and our identity is the central role Communion plays. We celebrate Communion every Sunday and it is the spiritual high point of our week. As part of our identity, it is very important that no road blocks be placed between a believer and the Lord's Supper, so in our church God's Table is always open to all.
You can learn more by visiting our page describing Our Denomination.