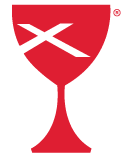 We are a part of the Christian Church (Disciples of Christ), commonly called simply "Disciples." As a denomination, we trace our history back to the American frontier of the early 1800's. Two separate groups (Barton Stone with the "Christians" in Kentucky, and Alexander and Thomas Campbell with the "Disciples" in Pennsylvania/Ohio) naturally formed over a similar idea: a divided and often hostile church was not God's plan in the New Testament. They strove to create a unified church for all Christians, and soon combined their efforts.
Central to their early mission was the openness of the Lord's Table or Communion, and this is still the central part of our identity, as exemplified in the Disciples' chalice logo. It is at God's Table that we welcome everyone and discover our unity as God's beloved. What we often say at ATCC is that the Table is open to "all who love God and want to follow Jesus."
Another central part of our identity is our belief that all Christians are called to interpret scripture together in community. As a church, we should offer love and grace to others who might hold differing opinions. An old quote of St. Augustine has served as one of our rallying points on this matter:
In essentials, unity; in non-essentials, liberty; in all things, charity.
A recent video demonstrates some of the modern identity of Disciples:
.