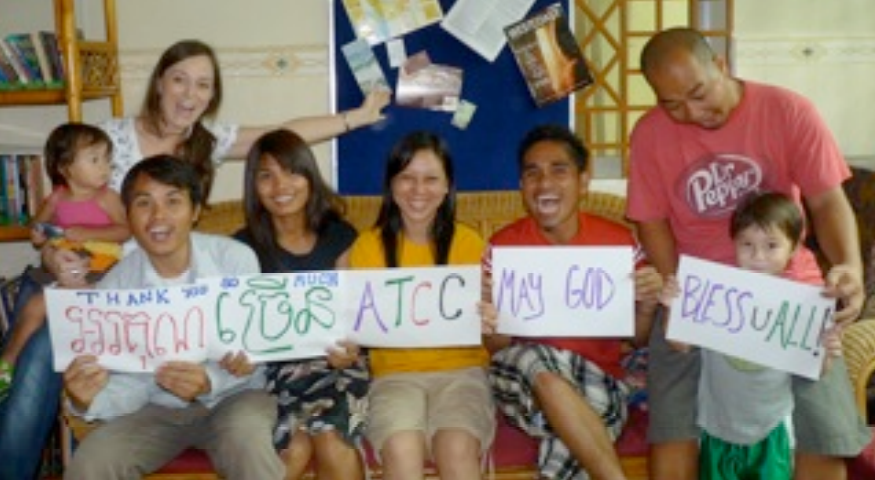 Tim and Melani Chan do amazing work with the children of Phnom Penh, Cambodia. Melani's family have been long-time members in our church. We are so proud of the work they do and thankful that we get to be their partners. Here are some words from Tim and Melani about their work and about our partnership:
ATCC has been apart of my family's life for over 30 years. My grandparents went there, my mother was raised there, and I grew up apart of the ATCC family as well. When I decided to join the mission field, they sent me off with their full blessing!

Their support encouraged me through many tough transitions and trials of living so far away from home. I knew that even so far away, I had them standing behind me every minute, so I could keep going forward. With their help we started with prayer walks in one of the biggest and dirtiest slums in Phnom Penh. We started kid's club, English classes in the brothels, and family visits with ATCC always standing with us in prayer and sending money for snacks and special events for Christmas, etc. Together we built relationships with the entire community and became known as the Victory people.

When the government forced the people off the land and dumped them in a village 20 kilometers outside the city, we followed them and opened Victory Community Center where we are able to bring hope everyday through community development, education, and the truth of the Gospel. ATCC has poured out so much Love and Generosity to this community, that they have named their neighborhood "Street of Hope"!

Their partnership with our family and center has made an eternal impact and together we will keep seeking God's Kingdom come in Cambodia!
Also, here is a great slideshow they shared with us when they got to visit in the Fall of 2010:

Project New Land
In 2011, Tim and Melani informed us that they had a handful of widows and families living under tarps, and they also had some New Land recently opened up by the government. At a cost of $1,250 per house, ATCC has agreed to build 6 homes.
You can learn more at the Project's website: ProjectNewLand.com
School Project
Since 2008, ATCC has partnered with Tim and Melani to send 30 Cambodian children to school every year.